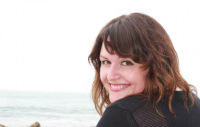 Raised in the Southern California desert, Rhiannon's earliest compositions centered around the complex life cycle of the native tumbleweeds. Upon venturing into civilization, she was delighted to discover a world of products and services begging to be written about and has been perfecting her craft as a creator of copy ever since. Rhiannon has continually exceeded goals while writing copy and creating strategic social media campaigns across a variety of industries. In addition to writing, Rhiannon is a vocalist and avid cake baker and can currently be found exploring her new surroundings in lovely Portland, Oregon.
Expertise Copywriting, Social Media Marketing
Skills Ten years of experience creating copy and online campaign strategies. Detail-oriented editor. College educated and natural communicator. Professional use of Hootsuite, Wordpress, Google Analytics, and Google Docs. Mastery of SEO marketing and proven track record of boosting sales and increasing online traffic.
Location Portland, Oregon